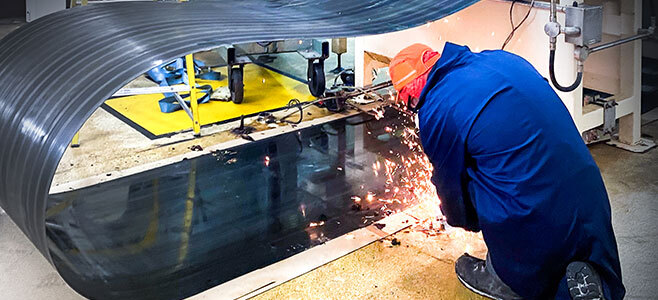 24hr Response for Emergency Breakdowns
We are here to offer assistance in the event of a breakdown, no matter what time of day. Cracks , edge damage, tracking issues we offer a complete range of after-sales services, frequent development of new steel belt repair methods, maintenance tools and working techniques as well as a broad offer for steel belt users to get their maintenance specialists trained in the latest technologies give proof of the outstanding care of our customers
Comprehensive technical customer service, development of special tools and a wide range of training courses all ensure that our customers receive the very best support. All services, service tools and trainings are offered under the family brand bernfixx®.This brand stands for top quality and reliability.
Berndorf Band has an international service network offering steel belt installation, repair and inspection, all under the technical direction of its service centre in Berndorf. Endless, open, polished and ground belts are installed, as well as belts with v-ropes or retaining strips, in every available material and dimension.
A wide variety of service activities are offered, from emergency repair to preventive maintenance agreements.
A team of service specialists located here in the UK in addition with a team of engineers in Berndorf Band and further afield worldwide ensure expert advice and scheduled installation and maintenance works from each and every team member.
All service specialists are Berndorf accredited and receive continuous and ongoing training & support to ensure that the quality of all our works meet with the customer expectations as well as our high standards.