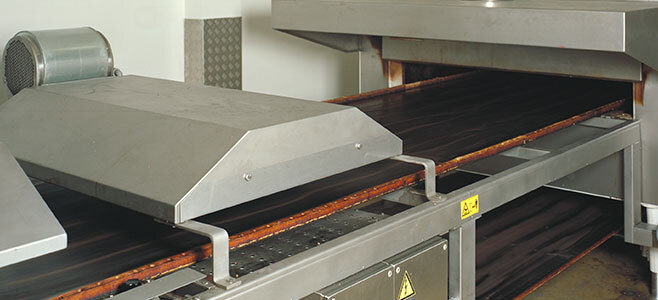 Bake Oven Bands
PACE SBS can supply steel belts capable of withstanding the high loads of mechanical and thermal stress typically occurring during the production of baked goods. Carbon steel bake oven belts are subjected to frequent temperature changes and a high number of load cycles, steel belts made in Berndorf always perfectly retain their shape and flatness. As the central element of the belts, the special carbon steel we use, is subjected to an elaborate tempering process during production, which gives the belts the tensile strength and surface quality required for their demanding applications in continuous ovens.
Allowing for operating temperatures of up to 400 °C | 752 °F, CARBO 13 has proven to be the material of choice. Its dark surface also absorbs heat, saves energy and ensures consistent product quality. Falling into the two categories of smooth and perforated endless belts, Berndorf belts are a possible alternative to wire mesh belts.
The abrasion-resistant and easy-to-clean steel belt surfaces show that the conversion of the belt to steel can bring many advantages. PACE SBS complements their products with an extensive set of services: From steel belt installations, repairs and inspections of belts and systems to the planning of new installations to upgrades of existing machines.
Highlights
• Perfect belt geometry
• Long belt life and low machine downtimes
• Effortless belt cleaning satisfies the highest sanitary standards
• Excellent conductibility of temperatures of up to 400 °C | 752 °F
• Consistently high product quality
• Belt acceptance and quality control in Berndorf